Did you manage to catch any of the many performances and workshops that took place during the Flamenco Biennale in key Dutch cities? Flamenco is no longer only danced in Andalusia; it is increasingly becoming an enormously surprising and innovative art form. On 14 January 2019, the Volkskrant newspaper published a wonderful review of this year's Biennale: "A warm welcome to the universe of radically renewed, stunningly contemporary flamenco."
For a taste of the modern-day atmosphere of flamenco, you can watch two great dancers in these YouTube videos: Andrés Marín, Don Quijote and Patricia Guerrero, Distopía. See how Don Quijote, the errant nobleman from the early 17th century, now appears in a contemporary flamenco performance by Andrés Marín.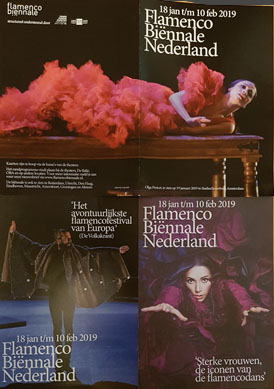 Meanwhile, Patricia Guerrero's flamenco performance is about a modern woman who, in an apparently idyllic society, at some point questions her life. She fights against the powers and forces of society but she realises that she has to give up her fight in order to survive. You see her dancing with "both those fluttering wrists and the punishing taps that return repeatedly, as the two opposites in life. But the woman gradually overcomes the restrictions imposed on her, towards personal freedom". (Source: article in Volkskrant, 25 January 2019).