On a cookery course by Luis Irizar in San Sebastian, I once learned to make beautiful tapas. I would like to share one recipe with you. Maybe you'd like to have a go at making it during the summer holiday. After all, summer is a great time to try something new: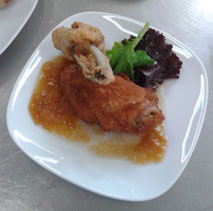 Alitas de pollo fritas con chutney de ciruela (8 pintxos)
Ingredientes:

Para el chutney de ciruela
1 y ½ dl de vinagre
125 g de azúcar
1 pizca de clavo molido (kruidnagel)
30 g de jengibre (gember) laminado
1 pizca de canela en polvo
30 g de sal
300 g de ciruelas
Para las alitas fritas
8 alitas de pollo
copos de maíz tostado
harina, fécula de maíz, huevo, pan rallado, nuez moscada, comino en polvo, vino, aceite de oliva, ajo, sal y pimienta
Preparación:
Espolvorear las ciruelas con la sal y dejar reposar 1 hora, aproximadamente. Hacer un sirope con el vinagre y el azúcar. Añadir al sirope las ciruelas troceadas, cocerlas durante unos minutos y añadir el jengibre, la canela y el clavo. Cocer a fuego lento durante 30 minutos muy suavemente y tapado. Una vez terminada la cocción, colocarlo en un lugar fresco hasta que enfríe.
Separar los muslitos de las alitas.
Macerar las alitas en sal, vino, aceite y un poquito de ajo durante una hora. Sacar de marinada y pasar las alitas por fécula, huevo batido y una mezcla de copos de maíz, pan rallado, nuez moscada y comino. Freír.
Pasar los muslitos por harina y sal. Freír.
Presentar los muslitos y alitas con el chutney y acompañar con un pequeño ramito de mezcla de lechugas u hierbitas variadas.