On 10 March, just before the Netherlands went into lockdown due to coronavirus, the 3rd National IB Conference was held in Ede. In fact, it was a strange day because we had just heard that no handshaking was allowed, although at that time we had no idea how severe the subsequent measures would be of course.
The fair was well organised at the Reehorst venue and was well attended, especially by internal supervisors from primary schools. There were presentations on "The power of happiness" by Leo Bormans and "Tilting schools" by Luc Greven, as well as other speakers on topics that touched stress among teachers, the rigid – perhaps too externally imposed – way of teaching, testing, digitisation, benchmarks in schools and parental involvement with newcomers. The visitors to my stand received a USB stick containing the two Juan y Rosa activities that have since also been uploaded to the website.
The world changed completely after that week, and schools did not escape the impact of the COVID-19 measures!
Many children have since followed lessons online and have seen just how much is possible using great resources like Zoom and MS Teams. But recent weeks and months have of course also revealed the downsides of remote schooling. In the Netherlands alone, some 5,000 pupils vanished off the radar, so physical attendance at school is clearly indispensable for them. This has been a wake-up call within education and hopefully it will ultimately result in an even better-functioning education system in the Netherlands (and perhaps elsewhere).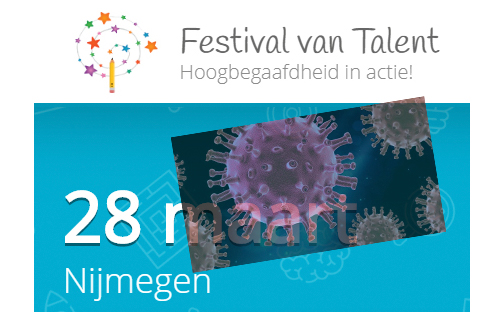 The 10th Festival of Talent
The 10th Festival of Talent has been postponed until the autumn. I had already agreed with the organisers to be present with a stand at the event so that you can meet me and ask any questions about Juan y Rosa. In addition, I will give a workshop: "Challenge yourself and start learning Spanish today".
This festival has always been a very pleasant day out for gifted children, their parents and professionals. A day with lots of information, workshops and fun activities for children, adults and families. A day not to be missed 🙂 This year the Festival of Talent will be held at the SGA in Nijmegen. (Keep an eye on the website for more information about the day, or I will let you know as soon as more information is available.)