LEARNING SPANISH WITH JUAN Y ROSA, PART 1: 'JUAN Y ROSA ESTÁN DE VACACIONES'.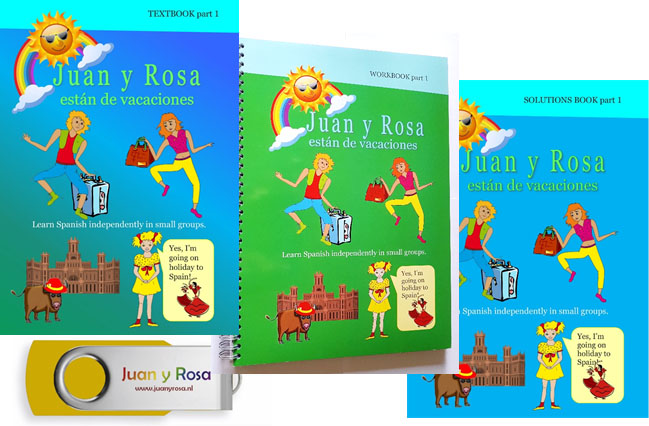 Activity from part 1 for pupils of Key Stage 2
8 – 10 HOURS
LEARNING TOGETHER MAKES LEARNING A LANGUAGE MORE FUN
SUITABLE FOR EARLY KEY STAGE 2
BOX
Foreign languages – Spanish
KEYWORDS
Spanish, Juan y Rosa, to be, pronunciation, greetings, playful, domino game, WRTS, many exercises
AREAS OF INTELLIGENCE
Interpersonal
Intrapersonal
Physically-kinaesthetic
Musical rhythmic
Verbal linguistic
THINKING SKILLS
Analytical
Creative
Critical
Logical
Practical
Research skills
Study skills
COLOPHON
Copyright © 2020 Cinospaans, Juan y Rosa series, part 1. No part of this publication may be reproduced or published without the prior written permission of Cinospaans.
SOURCE
This learning activity comes from 'Juan y Rosa están de vacaciones' part 1 of the Juan y Rosa series, chapter 1a and has been adapted with the permission of Cinospaans for anyone interested in the unique Juan y Rosa learning method, which challenges you to cooperate, think about yourself and develop your own learning skills.
LAST CHANGE: Monday, 9 June 2020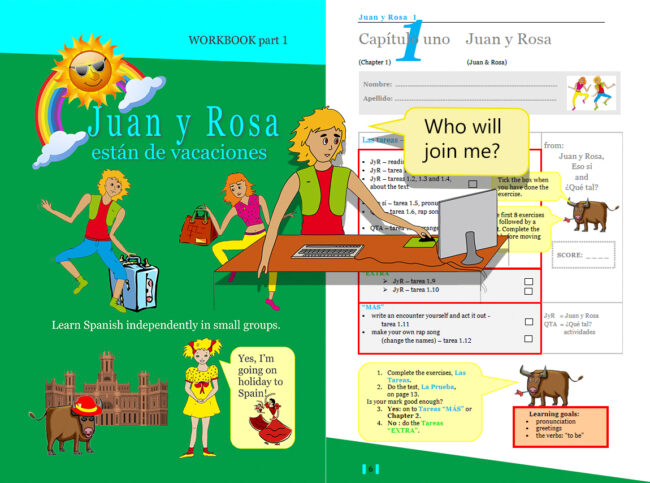 In this activity you will learn Spanish through exercises that allow you to practice your writing skills, listening skills, speaking skills and reading skills.
Learning a foreign language is an enjoyable and rewarding challenge, because the longer you learn it, the better you become at expressing yourself.
LEARNING GOALS
WHAT DO YOU LEARN?
You learn to greet people in Spanish, you learn about Spanish pronunciation and spelling, and you learn about the two Spanish verbs that for "to be": two words that seem to mean the same thing in English, but learning Spanish allows you to discover differences in meaning. Spanish is a member of the Romance family of language and has its origins in Latin. By learning a foreign language, you also gain more insight into the structure and origins of your own language.
HOW DO YOU LEARN?
You learn with your feelings and with your mind. You want to do as many of the exercises as possible, as well as possible. Read the instructions carefully before starting on the exercises. Pay attention to Don Toro's tips. Stick at it and persevere.
PREPARATION
WHAT ARE YOU GOING TO DO?
You will do various exercises on paper, and also prepare a presentation, play a domino game, a sobre-mí game and a glossary game.
WHAT DO YOU NEED?
Attachments PDFs: LEARN WORKSHEET.1a, sobremí-game.1a, glossary game.1a, domino
game.1a, Game Box Large
Scissors, pencil, eraser, correction pen
Sturdy paper
Audio player, headphones and 3 mp3 files
WHAT SHOULD YOU BE ABLE TO DO BY THE END?
At a minimum, you should be able to sing along with the last word of every sentence in the song. You should also have done a beautiful drawing of a treasure you would like to find and you should have made a wish about what you would love to do.
WORKING METHOD
Read about the working method on the LEARN WORKSHEET.1a, worksheet of the Juan y Rosa learning method and follow Don Toro's tips. Read the explanation about the Spanish sounds and the spelling, and listen to the first audio clips related to the glossary and the dialogue. Play the games to practice the new words and discover and understand the difference between SOY and ESTOY.
Then do the exercises and perform your song or play. Check each other's assignments using KEY.1a (available from your supervisor). Only ask your supervisor for help if really necessary. If you have a question about Spanish pronunciation, you can also Skype with a Spanish supervisor. Ask your supervisor for details.
ARE YOU READY?
Regularly tell your teacher where you are and how you are doing. Show them what you have already done and how you have been learning the Spanish words. When you have completely finished all the exercises, you can use the evaluation sheet EVAL.1a to reflect on how you have worked.
GUIDELINES
PREPARATION
This activity consists of multiple exercises. In total it will take around 8 to 10 hours to master this first part of the chapter from Part 1 of the Juan y Rosa series. Learning Spanish can't be done in a hurry! In fact, it can take a lifetime to learn everything about the Spanish language and culture. But you determine the ultimate aim yourself, broken down into shorter-term goals. So let's start now! To get better at a language, it helps to practice a lot in your own time – at home, at school, when out and about, and so on.
Print out both sides of the PDF. You need 9 sheets of paper, preferably slightly thicker paper (120 grams). Start by reading pages 1 to 5 aloud. Have an audio player and headphones handy. Learning a foreign language together is more motivating so it's best to work in pairs. Pay attention to the tips by Don Toro, who will guide you through the various exercises.
ROUNDING OFF
With the teacher: perform the song or a play and tell the others how you learned it. What helped you the most to learn Spanish? Play one of the games in class, including with other pupils who aren't learning Spanish.
INFORMATION FOR THE SUPERVISOR
GUIDELINES
BEFORE THE ACTIVITY:
Print off both sides of the PDF LEARN WORKSHEET.1a on 9 pages. Also print off the other PDFs as indicated. Give the pupils the necessary materials (see Preparation – "What do you need?") and get them to work in pairs. They should read the first 5 pages aloud and then start with the first audio clip.
DURING THE ACTIVITY:
Regularly discuss with pupils how things are going, what page/exercise they are working on, how they are learning the words and sentences, how the games are going and whether they are working well together.
You may want to form new pairs of pupils based on their speed of working. The pupils can check their answers using the KEY.1a. When a pupil has completed the test, you can check together how it went and discuss whether they should do the Extra or Más exercises. Give the pupils the opportunity to perform the song or a play.
ANSWERS / SOLUTIONS:
Pupils can ask for KEY.1a after completing exercise 1.2. Check them together or let the pupils check each other's work. If the pupils have completed six exercises (see page 10 of the LEARN WORKSHEET.1a.PDF), they can do the test. The KEY.1a also contains the answers for this test.
EVALUATION AFTER THE ACTIVITY:
Perhaps the pupils who have done the Spanish activity want to teach everyone else the song too. Discuss how they learned the words, sentences and verb forms. Re-play the games using the pictures from the Game Box that they have made. Ask them if they would like to learn more Spanish this way. Complete the evaluation form together. Pay attention to the pupils' reactions.
PDF EVAL.1a – evaluation of learning Spanish with "Juan y Rosa están de vacaciones"
PRESENTATION TO THE OTHERS/GROUP
The whole group can learn to sing the song or perform a play in Spanish and play the games to teach each other Spanish words.