Málaga started
getting ready for Christmas in the last week of November. Since then, the city has
been transformed into a spectacle of light and colour. The moment that the lights
are switched on is always a big event. Watch this special moment here on YouTube.
What an experience!
For Spanish children, the arrival of the Three Kings on 6 January is another exciting occasion. The Three Kings are led into the city in a grand parade, una cabalgata. For the Three Kings festivities, children receive surprise gifts, just like we put presents under the tree at Christmas.
In Seville, a lot of effort goes into creating a beautiful nativity scene each year, and the moment that the Portal de Belén is set up is another big event. Children sing Christmas carols, or villancicos, enthusiastically. Do you want to sing along?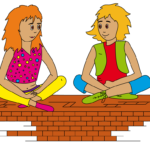 Did you know that the audio clips belonging to the tareas of Part 1 Juan y Rosa están de vacaciones contain a number of Christmas carols? You can find the lyrics to the villancicos at the very end of the workbook. There are some differences between the songs on the USB and the lyrics at the back of the workbook. For example, the workbook contains the text of Noche de paz sung by Los Parchis which is not on the CD, but you can still sing along with this YouTube video. The workbook doesn't contain the lyrics for Popurri de Navidad by Los Parchis which is on the USB, but this song is just so cheerful that you will soon find yourself joining in automatically.