LEARNING SPANISH WITH JUAN Y ROSA, PART 0: 'SOY DON TORO'.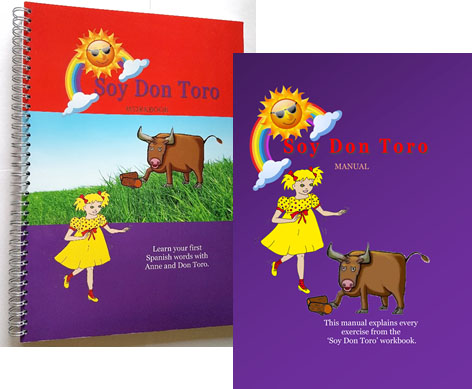 Activity from part 0 for pupils of Key Stage 1
1.5 – 2 HOURS
LEARNING TOGETHER MAKES LEARNING A LANGUAGE MORE FUN
SUITABLE FOR KEY STAGE 1
BOX
Foreign languages – Spanish
KEYWORDS
Spanish, Soy Don Toro, song, singing, playing, with pictures, drawing, internet, challenge, gifted, creativity, imagination, talent, empowerment, motivation
AREAS OF INTELLIGENCE
Interpersonal
Intrapersonal
Physically-kinaesthetic
Musical rhythmic
Verbal linguistic
THINKING SKILLS
Analytical
Creative
Critical
Logical
Practical
Research skills
Study skills
COLOPHON
Copyright © 2020 Cinospaans, Juan y Rosa series, part 0. No part of this publication may be reproduced or published without the prior written permission of Cinospaans.
SOURCE
This learning activity comes from "Soy Don Toro" part 0 of the Juan y Rosa series, chapters 1.1 and 1.2. and has been adapted with the permission of Cinospaans for anyone interested in the unique Juan y Rosa learning method, which challenges you to cooperate, think about yourself and develop your own learning skills.
LAST CHANGE: Monday, 9 June 2020
In this activity you will learn to recognise your first Spanish words and sounds, and you will learn to sing a Spanish song. You will experience learning using actions and through creative activities such as drawing pictures.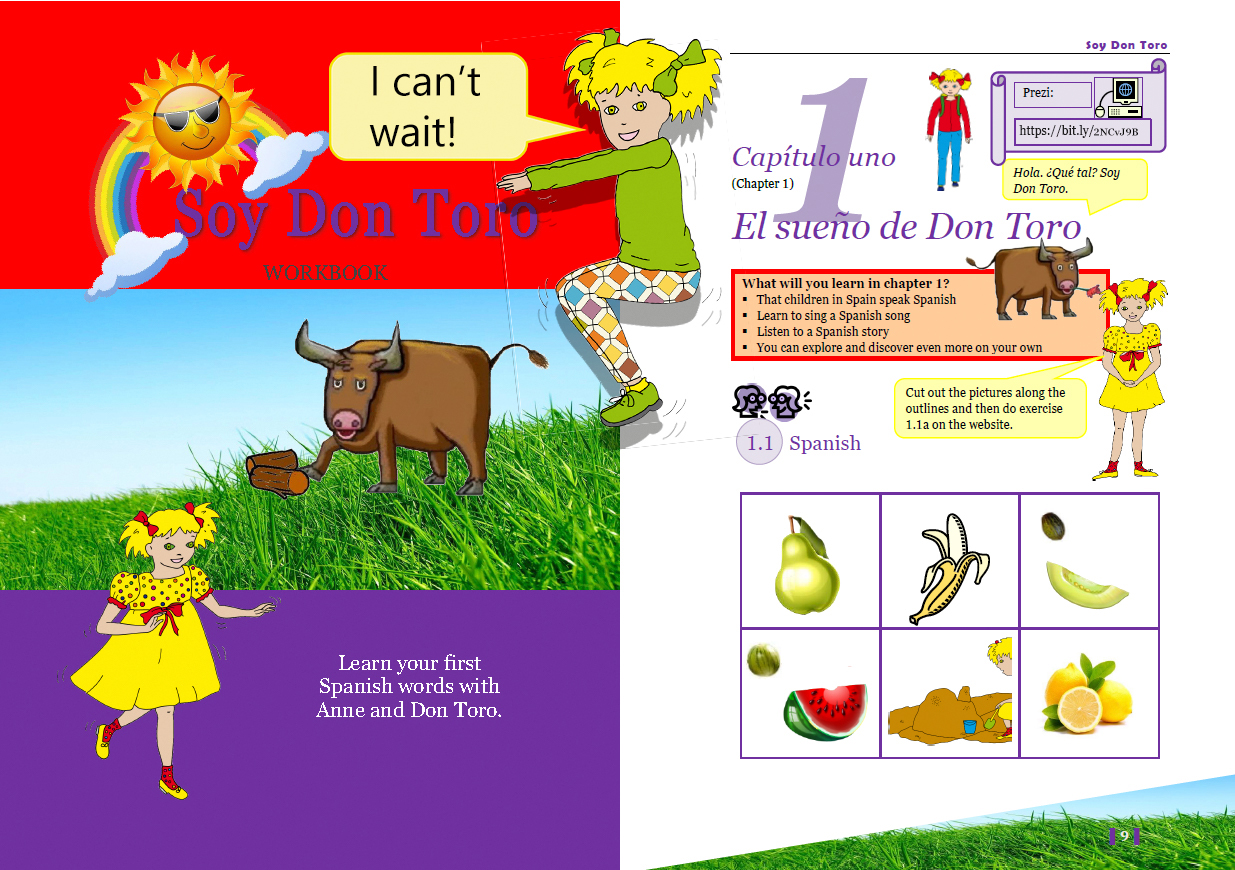 LEARNING GOALS
WHAT DO YOU LEARN?
You learn your first Spanish words, sounds and a song. Spanish is a member of the Romance family of languages and has its origins in Latin. The song is a historical song from the 18th century when the country had to choose a new king. The boy in the song would love to help the king. You learn to ask yourself questions like: What do I dream of? What would I love to do?
HOW DO YOU LEARN?
You learn with your feelings and your mind: you want to be able to sing and understand as much of the song as possible. You stick at it and persevere.
PREPARATION
WHAT DO YOU NEED?
Appendix PDF1
Scissors
Glue
Crayons
Internet Prezi [H1 – https://bit.ly/3fypWOJ] 
WHAT SHOULD YOU BE ABLE TO DO BY THE END?
At a minimum, you should be able to sing along with the last word of every sentence in the song. You should also have done a beautiful drawing of a treasure you would like to find and you should have made a wish about what you would love to do.
ACTIVITY
PREFACE
With teacher: PDF1 is printed on both sides. You need 7 sheets of paper, preferably slightly thicker paper (120 grams). You will receive an explanation of this exercise from your supervisor. Start by reading assignment 1.1, then cut out the pictures and go to the Prezi on the internet. Put on headphones and start. If necessary, ask your supervisor for help.
ROUNDING OFF
With teacher: Sing along to the song on YouTube, show your drawing and talk about it. Also show your theme cards and talk about which Spanish words you have learned. Use the evaluation sheet to reflect together on how you have worked.
INFORMATION FOR THE SUPERVISOR
GUIDELINES
BEFORE THE ACTIVITY:
Start the lesson together. Explain to the pupils what to do with PDF1, cutting out the pictures, and with the internet page.
DURING THE ACTIVITY:
Check the pupil knows how to click to the next page and how to restart the website. Furthermore, it is self-explanatory.
ANSWERS / SOLUTIONS:
The lyrics of the song are on attached PDF2. During the song, listen to check if they can sing the last word of each sentence. In 1.2a, pupils may be able to say what they would like to do/be. In 1.2b they draw a picture of treasure that they would like to find underwater. Drawing 1.2c includes a story from the children about what they would love to do – they make a wish. Finally, you can check the pictures and the corresponding Spanish words together with the pupil using PDF3.
EVALUATION AFTER THE ACTIVITY:
Sing the song with all the pupils who worked on it. Discuss the drawings in the group. Play around with the pictures to find out which words they already know in Spanish. Ask if they would like to learn more Spanish this way. Complete the evaluation form together. Pay attention to the pupils' reactions.
PDF4 evaluation
PRESENTATION TO THE OTHERS/GROUP
The whole group can learn to sing the song and learn the Spanish words together using the pictures or theme cards (last page of PDF1).