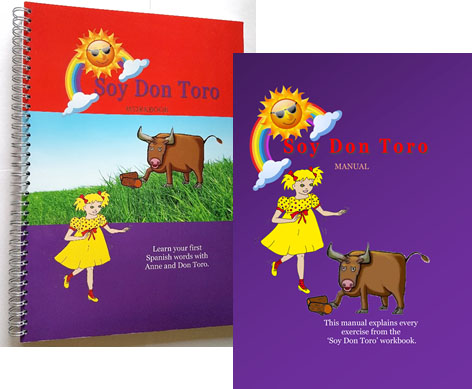 Part 0 for pupils in Key Stage 1
Part 0, 'Soy Don Toro', lays the groundwork for Part 1. The method pays particular attention to the differences in pronunciation between Spanish and English.
From Chapter 3 onwards (approximately in April if you start in the autumn) attention is also paid to how Spanish is written, which enables the pupils to learn to read Spanish. Pupils are primarily helped to learn Spanish through a combination of sounds, actions, songs, dances, videos and images.
Furthermore, the pupils are emotionally challenged to think about what they themselves like and what they enjoy doing. Various questions make the pupils aware of how they and their fellow pupils experience the world around them. The teacher/supervisor discusses these topics with the pupils in English and combines those discussions with examples from the course material. Per exercise, the manual provides the teacher/supervisor with a relevant starting point for the discussion. During these exercises, you can talk to the pupils in either English only or a combination of English and Spanish.
The pupils are not tested in this part. However, they are stimulated and encouraged to draw pictures and to label them with Spanish words they have learnt, to recite the Spanish words relating to pictures, to make Theme Pages, to sing songs and to play games such as bingo and dominoes. In other words, they become familiar with the new sounds and words in the foreign language which will give them a head start when they continue learning Spanish in Key Stage 2.
Don Toro is the bull who lends a helping hand. He is also featured in Parts 1 and 2. Pupils can follow him on Twitter: @don_toro_. Anne is learning Spanish at the same time as the pupils and she – along with Don Toro – guides them through this part of the Spanish learning method.
Click here to download a digital version of Chapter 1 of the workbook and of the manual.