I am planning to exhibit at NOT in January 2020, which means that I have decided not to have a stand at the 2019 edition. But I will be in Utrecht on Thursday 24 January 2019 and we could always arrange to meet up to exchange information about the unique learning method Juan y Rosa over coffee. The exhibition runs from Tuesday 22 January to Saturday 26 January. The theme is:
'For better education'.
The teaching method Juan y Rosa, with its didactically
innovative model, is a very good fit with this fair, which is about talent
development, the teacher as a coach and personalised learning, among other
things. These three elements are already incorporated into the Juan y Rosa Spanish learning method,
which puts the learning process in the pupil's own hands, with the teacher supporting
the pupil as coach and motivator.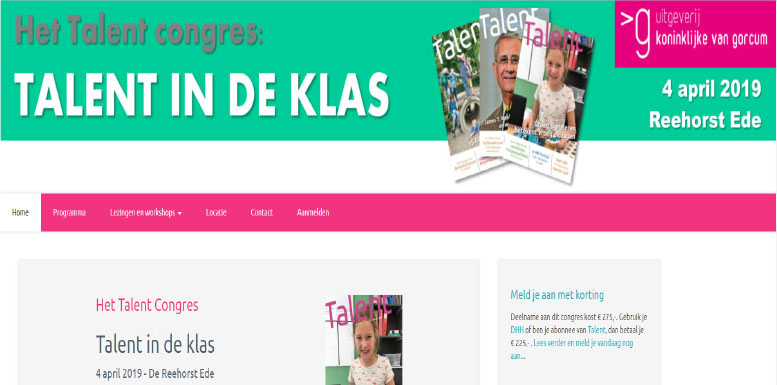 Another fair for which Juan y Rosa has registered is the Koninklijke
van Gorcum 'Talent in the Classroom' conference, which will be held at the
Reehorst venue in Ede on 4 April.
"The congress contains a programme
in which prominent speakers and workshop leaders take you on a journey into their
vision on good education for (highly) gifted students. You will be given tools
to effectively organise the education of talented students at your school."
As the author of Juan y Rosa I will be present in Ede
with an interactive stand in the information marketplace. Stay informed and
sign up for the conference via the website: https://www.aanmelder.nl/talentindeklas2019